Max Symonds, 2018 so far
Not the start I planned!!!
The 2017 season ended on a high. Winning the 600cc Championship and getting the chance to compete in a couple of rounds at the British Superbike Championship was great. However, 2018 has brought things back down with a bump.
Testing kicked off in February at a cold Donington Park and having had a positive day getting back into the swing of things after winter, I went out for the last session looking forward to getting a few more laps in before we headed off. Unfortunately, I hadn't realised quite how much the track temperature had dropped as I tipped into Schwantz curve, a 100mph+ uphill left–hand bend, and in a flash the bike slid out from under me and next thing I knew I was lying at the edge of the track with a broken leg…and that was that!
Back Out on Track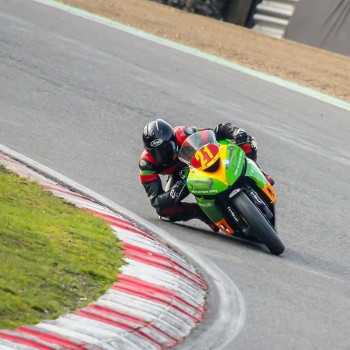 After a long summer of hobbling around and feeling sorry for myself, it was finally time to get back out on a bike. Rather than jump in the deep end and go racing right away, I decided to get some testing down first. First–off was at Cadwell Park and having barely ridden a bike in the last 10 months, two days at one of the most physical and complex tracks in the UK was a bit intimidating to say the least.
Once I was out on track it was an amazing feeling to get the 600cc Kawasaki screaming over the steep rises of the outfield and rushing through the infield woodland sections, where spectators and trees whizzing past really give you a sensation of speed. The track has a mix of everything: fast swooping bends, tight slow chicanes and hairpins, twisty woodland sections and of course the famous mountain. All this is the ultimate challenge for a rider and I felt like staying out forever in the search for perfection. However, after 17 sessions across two days amounting up to over 5 hours' worth of track–time it was safe to say that I was knackered and a need of a good sleep.
Next up was two days at Oulton park, another track that feels much like riding a roller coaster with lots of fast, sharp, twisting corners and steep elevation changes that make it a struggle to keep the front wheel on the ground, (not that you'd want to anyway!)
Not quite so much track time this time round, as day one was full of red flags mixed with on and off rain cutting track time in half. Very annoying, but when conditions are tricky lots of crashes are to be expected! Luckily day two was a different story with the sun making a much–needed appearance and fewer riders out on track to throw themselves at the scenery and cause red flags. This gave me the opportunity to really get into a good flow with the track and experience the fun of riding again.
It may sound strange, but when you get into a rhythm on a bike there are no real thoughts – your brain is just focused on the constant monitoring of your situation; speed, riding position, lean angle, track position, conditions and so on. This is the ultimate way: clear your mind of all thoughts and live in the moment…I've never once thought about what I'm having for dinner or that annoying co–worker when I'm out on a bike!
Next up...
To cap–off this little run of testing, I'm heading to Brands Hatch (just for one day) this time round. This is a relatively local one for us being only two and a half hours away. Regularly traveling four/five hours or more to go racing certainly makes sure you're committed and really value any time you get out on track.
Following that it will finally be time to get under racing orders again, with the first race weekend of the season at Pembrey with the MRO racing series late September.