Outdoor Covers to protect your bike over winter
Winter is without a doubt on its way with drastic weather changes across the country and temperatures plunging. For those bikers who don't have sheltered areas to keep their bikes over winter, it can be a concerning time of the year. Considering a hardy outdoor bike cover can be a sensible idea to protect your bike from the elements. Here we take a look at the best outdoor covers on the market whether you're on a budget or looking for top spec products.
Oxford Aquatex Bike Cover - prices from £19.99*

This cover offers great value for money as it protects against rain and dust and also has a heat resistant material that protects up to 150°c. It has an elasticated bottom along with a belly strap which provides a secure snug fit for your bike. There are various sizes to choose from including covers with space for top boxes.
MotoGP Covers - prices from £29.95*

For those looking for a cover with a bit more style, the MotoGP cover offers all the protection your bike needs with a smart sophisticated look. This is a fully waterproof nylon cover with a heat resistant lining that comes with a carry bag for easy storage and transportation. Adjustable under bike strap means a secure fit to your bike.
Oxford Stormex Bike Cover - prices from £49.99*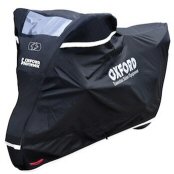 This cover offers ultimate protection with a tough outer layer which protects against the harshest of weathers and any knocks. The cover has reflective panels which will increase your bikes visibility at night. It also allows for a lock to be used with a pouch for a padlock so it can be kept off the ground. The inside has an increased softness to ensure that no damage is inflicted on your paintwork.
Held Motorcycle Cover - prices from £54.99*

This ultra-protective cover is constructed from polyester and polycotten making it fully waterproof. It has fitted air vents to protect against corrosion along with heat resistant side panels making it UV resistant with a regulated temperature. An elasticated band provides a good fit round the bottom of the bike securing the cover in place. This cover is a strong and sturdy and a great purchase.
*all prices sourced from www.sportsbikeshop.co.uk as of 08/11/2016.