Keep your hands toasty this winter
The winter months have well and truly arrived with freezing temperatures spreading across the country. Winter can be a daunting time for any motorcyclist with darker journeys and difficult conditions. Your hands can take a battering in crisp winter weather so it's important you keep them toasty warm because let's face it, things aren't going to run smoothly riding your bike if your hands are slowly suffering. Here we take a look at the best motorcycle gloves on the market to suit even the sturdy regular commuter or the weekend pleasure rider.
Spada Enforcer Waterproof Glove

This glove offers protection through its carbon knuckle sections with a secure fit by a Velcro wrist strap. The material is 100% waterproof and breathable with a thermal lining keeping your hands a comfortable temperature. Should you get caught in any wet weather there is a visor wipe fitted on the left thumb to clear any waterdrops in the way of your vision whilst riding. Also comes in high visibility colours. Prices start from £64.99.
Richa Carbon Winter Waterproof leather gloves

If you're looking for a glove that's lower in price but don't want to sacrifice quality then the Richa Carbon Winter Waterproof Leather glove offers the best of both worlds. It has carbon reinforced fingers along with a palm and it's thermal lining offers warmth and comfort for the short or long rides. A fitted suede visor wipe provides quick clearing of the visor in wet weather. These gloves start from as little as £38.00.
ARMR Moto WPL330 Glove

These heavy duty gloves offer a great level of warmth and protection from the elements without sacrificing appearance through their stylish design. The liner is breathable and waterproof keeping optimum temperature. The stretch cord closure secures the gloves in place. Prices start from £34.99, providing a reasonably priced set of gloves.
RST Thermotech Heated Glove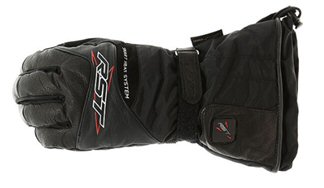 Designed specifically to protect your hands from the harshest conditions, these re-chargeable gloves can last up to 150 minutes on their highest setting and up to 270 on their lowest setting. Thick leather and a neoprene liner means heat is retained and kept at a comfortable temperature. The outer layer is a combination of cowhide leather and Maxtex offering a high level of protection. These gloves start at £145.00.
Oxford Hot Gloves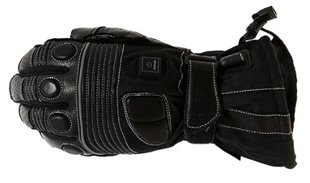 If you're keen to get your hands into some toasty gloves without breaking the bank, look no further. The Oxford hot gloves are a heavy duty glove, made from Nylon and leather with a PU coated interior and easy to operate with a large power button. The construction of them means that even without a heat source they are generously warm and well ventilated. With three levels of heat and a suede visor wiper, these gloves really offer all you could need. Prices start from just under £100.