Loading your bike with luggage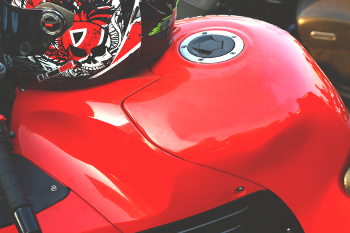 Before you set off on your biking adventure, make sure you are prepared for travelling abroad. You don't want anything to ruin your trip so we have put together a checklist to ensure you can concentrate on the biking, and avoid any potential stress of taking your motorcycle abroad.
Loading up your motorbike is the last step before embarking on a journey - whether it's a trip to the shops or a major trek. It is important to get it right and it should be seen as the last checkpoint in the standard examination every rider performs on their bike before setting off.
Some motorcycles may already be fitted with factory luggage but if yours isn't, then it is available in as many forms as styles of motorcycle. Each has its advantages over others and it is important to choose the type that fits your specific needs.
Soft motorbike luggage

If you are planning a short trip and only need a limited load, then this style of luggage is ideal for occasional touring use. The bags can be fixed to the motorbike in a way to suit you and are usually made from tough water-resistant material. When shopping for soft luggage, have your motorbike with you and have the dealer demonstrate how to fit it correctly.
Hard motorbike luggage

Hard luggage is usually more expensive than soft luggage but comes with the advantages of enhanced weather protection, heightened security and more room for your possessions. Often the systems are quick release and you can also colour co-ordinate the luggage to your bike.
Preparing your motorbike for luggage

Of key importance is that you don't try to carry too much as it will affect the handling of your motorbike and breaking distances may increase. If you are overburdened with luggage and extra trinkets, the bike won't run smoothly and can be dangerous.
In addition, make sure tank bags are properly secured and do not exceed the width of your mirrors. Spread the weight evenly so that there is no pull on either side of the bike, as this is only likely to be accentuated at speed. Heavy items should be loaded as close to the bike's centre of mass as possible to reduce the effect on the handling.
For peace of mind it is often worth asking a mechanic to have a look at your motorbike's tyre pressures and suspension before you embark on a tour. They can be adjusted to accommodate for carrying the extra load.
Pannier luggage needs to be aligned properly too and straps should be fastened down - it's important that you can enjoy a comfortable and safe ride without having to flap at a hanging piece of kit while on the road. Anything unbound is an obvious danger and can be trapped in the wheels, check your luggage when you make a stop to ensure that everything is still in place.
Don't take anything too heavy or sharp in your rucksack. If you are breaking or if the bike does crash, the last thing you need is to suffer serious injury as a result of the momentum of your own luggage.