Ace Café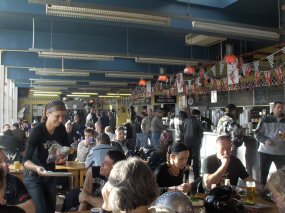 With a history that dates back to 1938, Ace Cafe London is a unique venue that welcomes anyone who shares a passion based on the traditions of motorcycles, cars and rock n' roll. These traditions are still as important today as they were in years gone by, when it was first home to the Ton Up Boys (and girls) and the Rockers.
Ace Cafe London is a world-famous venue located near to Wembley Stadium. It features a large marshalled car park which is ideal for bikers, and the fantastic facilities can cater for film and photo shoots, product launches, small conferences, presentations, business breakfast meets, weddings and other special occasions and celebrations.
The building itself is also one of only a few left in the UK which was designed in the architectural style of 'Streamline Moderne'. In addition, the cafe hosts meets every day of the week and throughout the year they organise events for various brands, makes and styles of motorbikes.
As a cafe which has been devised, designed and built by fellow petrolheads, you are always in good company. With a large screen TV showing MotoGP/BSB/TT along with other motorsports, the latest motorcycling magazines to peruse, a free noticeboard with for sale/wanted ads and a table filled with leaflets about motorcycle events/businesses/associations and clubs, this is the place to enjoy a unique ambience where you can make use of the dedicated facilities and endless activities. In fact, there is always something going on, from biker meets, live music and much more.
Open seven days a week, the cafe offers a wide range of main meals, breakfasts, salads and snacks and daily specials. They are also licensed to sell alcohol and there is a merchandise shop onsite, as well as Disabled Access, toilet plus baby changing facilities.
Location: London, NW10 7UD
Tel: 020 8961 1000
Website: http://www.ace-cafe-london.com