The Fox & Goose Hotel, London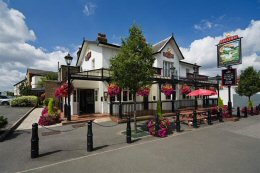 This family-friendly hotel in Ealing, which is located just ten minutes from Wembley Stadium and five minutes from London's famous Ace Cafe, offers stylish modern accommodation with all the mod cons that you would expect from a great hotel, including air conditioning, flat screen TVs, modern en-suite bathrooms and all those little home-from-home luxuries. There are also plenty of rooms to choose from including Club Rooms, Family Rooms, Standard Double or Twin rooms and the fabulous Honeymoon Suite.
The Fox & Goose Hotel also features a large secure car park for up to 80 cars and motorbikes while the large award-winning garden is perfect for alfresco dining or for enjoying a well-deserved refreshment. There is also a covered heated patio area which offers the ideal spot for the cooler evenings. Inside you will find a lovely restaurant area serving traditional pub food, featuring a fantastic selection of daily specials, the much-loved evening Grill Menu, delicious Sunday Roasts and an international a la carte menu. The Fox & Goose Hotel have also been awarded Master Cellarman status, which means that every customer can be safe in the knowledge that they will receive a top quality pint.
This historic venue is open seven days a week, and for large parties or groups (of up to 70 people) there is also the opportunity to book the private Griffin Room.
You can also get a 10% discount on the best available rate for bedrooms, simply by phoning direct and quoting 'motorcycledirect'.
Location: Ealing, London, W5 1DP
Telephone: 020 8998 5864
Website: http://foxandgoosehotel.co.uk/