Top Tips for Buying a Used Motorcycle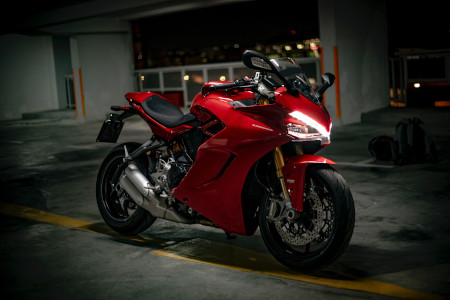 Investing in your two–wheeled dream can either be a joy or a nightmare. By following our Top Tips for Buying a Used Motorcycle, you can save yourself time, money and a whole heap of grief.
The Perfect Fit

People buy motorcycles for any number of reasons, but it pays to be realistic in your needs. In other words, if you're looking for a commuter for inner–city work, then a full–on race replica is not the best move.
You will also need to take into account whether the motorcycle you are considering is a good physical fit. Also factor in the running costs.
At this point, it's important to make a shortlist of suitable makes and models. This strategy is vital as the moment you're faced with a choice of bikes, you may end up buying with your heart rather than your head.
With a realistic shortlist, it's time for some due diligence and to start surfing. Begin by searching for reviews and images. Also, check out an owner's forum. These blog sites are the best sources of information regarding known reliability issues etc., as the posts are from owners, not salesmen.
Tracking Down a Bargain

When it comes to bagging a bargain, the internet is king, thanks to its accessibility. Be aware of the location of any potential purchases, too, as travel costs can mount up. One word of warning, unless you are confident in what you're doing, don't be tempted to buy or bid off a photograph alone. Doing this is very similar to playing Russian roulette!
Nothing beats a hands–on viewing, so scrutinize the local classifieds; look for bikes advertised in your local area. Finally, let friends and family know you're on the hunt for a new ride.
Look Before you Leap

Once you've found a bike that fits the bill, ask to see it during daylight hours. Dimly lit driveways and garages can hide a multitude of sins.
Make a list of what to look for, starting with consumables such as tyres, brake pads, fork seals, chain and sprockets. Remember, with tyres, check for tread and uneven wear patterns. Look for the production date stamped on the outer tyre wall. Even road–worthy tyres can reach their sell–by date.
When it comes to the drive chain, check to see it's correctly adjusted and lubed, both are good signs that the owner keeps up with maintenance. Also, inspect the rear sprocket for damaged or hooked teeth.
With a torch or phone light, look down the brake calipers to see how much meat is on the pads. You can also use your light source to check behind fairings, under sumps, and identify any head or base gasket leaks.
What's the Damage?

Finally, inspect the ends of levers, footrests and outer edges of silencers for collision damage. Pop the seat and have a quick look at the wiring harness, battery and electrical components for signs of wear or repair.
Put the bike on its centre stand if it has one, then give the wheels a good spin. Check front and rear wheel bearings, play in the swinging arm and steering head bearings.
If your research kicked up any model–specific problems, such as exhaust corrosion, starter motor problems or weak switchgear, add them to your checklist.
Does the bike have a dipstick or sight glass to check the oil level? If it's the former, remove it to check oil condition.
Before you ask the owner to start the bike up, place a hand on the engine to see if it's been started prior to your arrival. A warm engine can mean the owner is trying to hide a cold starting problem.
Important Paperwork

As for paperwork, always ask to see all the relevant documents and check that they're current. Engine and frame numbers must match the logbook. Also, find out if there is a service history, old MOT's, or receipts for any previously carried out work.
Knowledge is power. Research can save cash, so don't be afraid to make a list. If possible, take someone with you for a second opinion even if they're not a bike expert.
Reality Check

When you have spent time watching Youtube videos, reading reviews and scouring forums, it's very easy to get over–excited when you see the bike of your dreams in the 'metal'. But remember, even your mum is capable of asking, 'is that bit supposed to be hanging off?"
Try not to buy the first bike you see, as comparison is the key to motorcycle–buying success. When a motorcycle does tick all your boxes and you're about to lay down your hard–earned cash, do one last thing for total peace of mind and take out an HPI check. You can do this using the bike's registration number. It will reveal vital information such as outstanding finance or if a vehicle has been stolen, crashed or written off. It also gives you the number of previous owners and mileage. All are facts you do need to know.
Finally, my top tip is, when buying a used motorcycle, never be afraid to walk away.