The Four Seasons of Biking
With the motorcycle season upon us, many people take this opportunity to get their bikes out of the garage and up and running for the summer. However, for many riders this warm weather is welcomed with open arms as they have been continuously riding despite the changing weather conditions. So this got us thinking, what are the benefits/drawbacks of riding your bike all year round? Below we have listed these to help make your decision easier on whether it is possible to ride your bike all year round.
Key points to consider when biking in spring

The key thing to remember in spring is that the weather is unpredictable. You can encounter sun, rain and thunder all in the matter of a day. April showers are not uncommon also. Due to sudden weather changes, you need to be extra wary of changing road conditions. Sudden wet weather can make the roads slippery, as dirt and oil rises to the surface. Look out for puddles, particularly deep areas of water, which you may want to reconsider driving through as this can cause substantial damage to your bike. Aside from this spring can also bring glorious sunshine and warm weather so be sure to get out and enjoy this. Riding in the spring can make it difficult to know what you should be wearing. We recommend leathers or textile clothing. Whichever you choose to wear, ensure they are brightly coloured so you can be seen in all weather.
Key points to consider when biking in summer

Should you find yourself out riding in a summer where we actually have reasonable spells of hot weather then you may struggle to know what to do with yourself in such heat. However no matter how warm it gets, it is never a good idea to go out riding in shorts, t-shirt and flimsy trainers or flip flops. Keep yourself cool in other ways by firstly ensuring that all possible vents on your clothing are open. This will keep air circulating around you keeping you slightly fresher. Try and get some summer riding gear so you have this specifically well ventilated gear to wear in the summer. Examples include gloves, a lightweight textile jacket and motorcycle jeans. Motorcycle jeans are a particularly good idea as they still provide a good amount of protection whilst keeping you cool. Also remember that lighter colours are better than dark colours with keeping you cool. Clever designs nowadays mean that well ventilated and light doesn't mean any less protection than leather so take advantage of this and get some summer gear to make your riding more comfortable. Keep hydrated in hot weather, drink more than you may think that you need as you don't want to find yourself in a situation where you can't concentrate or you become tired due to dehydration. Drink lots and have regular rest stops. Lastly, consider removing your windscreen if you have one as this will allow breeze onto your body to cool you down.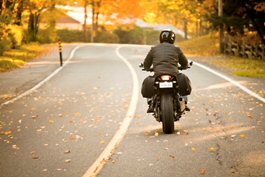 Key points to consider when biking in autumn

In autumn the weather doesn't tend to be very changeable. The main things you can prepare for are rain and darker evenings. The dark nights and mornings mean you will need to ensure that you have High Visibility Clothing on so you can be seen by other road users. Hi-Viz helmets can be a good idea around this time of year. With trees shedding daily, leaves can pile up on the roads covering obstacles and pot holes so be extra wary. Wet leaves can also provide an extra slippery surface so drive over with care. As far as motorcycle clothing goes this time of year, your best bet is going to be leathers. These will keep you dry and keep the warmth in and the wind/rain out for a comfortable temperature. Of course make sure you enjoy the changing colourful landscapes this time of year from the seat of your bike.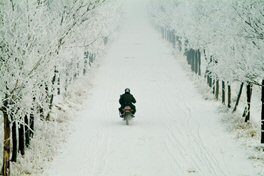 Key points to consider when biking in the winter

As we all know, the winter weather in the UK can be anything from sun, sleet, rain, hail to even snow. This means you need to be prepared for all conditions. A key benefit for biking in winter is that it is a much faster means of travel than a car. Where most people will opt for the warmth of a car rather than get public transport, walk or cycle, bikers can gain from this as the more cars on the road, the easier it is to skip through traffic and get parked up. Your main obstacle with winter riding is going to be the weather. Prepare for the worst by considering getting a one piece suit if you haven't got one already. This will keep out any wet and cold and keep you nice and warm. If possible, also consider getting a windscreen put onto your bike. Even just a small one will help deflect rain away from you whilst riding and more importantly reduce the wind impacting on yourself. To keep yourself as warm as possible in the crisp cold conditions, look into getting some heated accessories for yourself and your bike to ensure maximum warmth. Heated things such as hand grips, seats, gloves and a waistcoat for example.
To summarise, biking has its key benefits all year round whether it's to do with the weather or efficiency there are always positives to biking in different seasons. It is a great mode of transport as it's efficient and fun, as long as you are sensible and prepare yourself for any situation you may find yourself in. Having sufficient breakdown cover is a key consideration. Overall, enjoy your bike, get out no matter what the weather and start a new adventure.