Motorbike Safety clothing
Motorcycle helmets - a legal requirement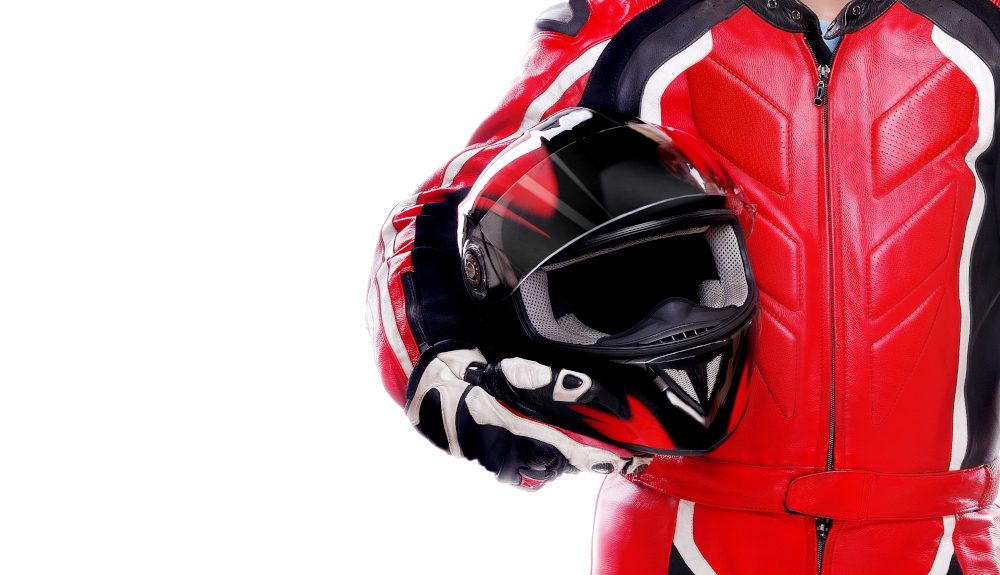 When we asked bikers for their advice and tips for new riders there were many great pearls of wisdom that came to light, however there was one piece of advice in particular that was very fitting on the subject, which was:
"Never ever ride without a helmet or a pair of gloves - not even 10 metres! I know, I found out the hard way..." - David Given
Motorcycle clothing is essential for safety, the right protection can minimise a potentially fatal outcome. You may already be aware of the severe injuries that riders can endure simply by riding in everyday clothing instead of motorcycle leathers. These riders will usually admit that if they'd worn the correct gear, they would've walked away with just a few bumps and a bruised ego instead.
Below we list the main types of safety clothing and what key pointers should be taken into consideration prior to purchase:
Motorcycle helmets

By law, you and your pillion must wear a safety helmet when riding a motorbike on the road. It's the most important piece of motorcycle safety clothing you can buy and it could save your life.
All motorbike helmets sold in the UK must comply with the following safety standards, and it's important that any helmet you buy conforms to these standards:
British Standard BS 6658:1985 and carry the BSI Kitemark
UNECE Regulation 22.05
Any standard accepted by a member of the European Economic Area which is equivalent to BS 6658:1985 and carrying an equivalent to the BSI Kitemark
Visit http://sharp.direct.gov.uk/ for safety ratings for all UK legal helmets. This independent safety rating reveals how much protection a helmet can offer upon impact.

When choosing a helmet you need to ensure that it fits correctly and does not move around. Make sure you measure your head, and it's advisable to do this several times to ensure you have accurate measurements. The helmet should be snug but comfortable, without any pressure points on your face. There are a number of exercises and tests that can show whether the helmet fits correctly.
Damaged and second-hand motorcycle helmets
There are a number of other guidelines when it comes to helmets; firstly you should never wear a motorbike helmet that has suffered a serious impact, even if it doesn't appear to be damaged. For this reason it's compulsory to replace the helmet following an impact for your own safety.
Secondly, you should never buy a second-hand helmet because you cannot always tell whether the protective material inside the helmet has been damaged.
Motorcycle Gloves

It can be easy to forget how delicate your fingers and wrists really are and motorcycle gloves should be another essential item on your shopping list. It's worth remembering that even if you wear motorcycle gloves, they can easily fall off upon impact unless they feature a proper fastening or strap around the wrist. Stitching is also a key consideration, so check the quality carefully as this can be a good indication of how much protection they will provide during a crash.
Above all gloves should be comfortable and should never hinder your ability to control a motorbike. There is a wide range of motorcycling gloves on the market made from different materials; some are more lightweight and breathable while others will provide warmth and protection from the winter elements. Whichever type you choose, you should always ensure that they are long enough to protect the wrists.
Motorcycle Boots

Motorcycle boots come in all types of designs and materials. While the overall style may influence your buying decision, you should always make sure they provide adequate protection around your ankle. At the very least boots should be tough but still offer some degree of flexibility to prevent any discomfort while you're riding. As a general rule, think about buying boots made of good quality leather and always look for rigid soles which will protect your feet from further injury. When it comes to the fit, remember that leather will usually give (or soften) a little over time.
Motorcycle Leathers

Leathers are another vital piece of equipment that will safeguard you from injuries, something which normal clothing (even though it provides coverage) is incapable of.
Again, there is a wide range of materials to choose from but remember that different types will complement different riding environments. For example, leather can be an inappropriate choice during the winter, which is why it's more advisable to consider a jacket featuring removable thermal linings and integrated CE-approved body armour.
The leathers should fit comfortably without being restrictive and if it features adjustments then this will provide even more protection, not just from impact but against the elements too.
There are also other types of casual clothing, such as Kevlar jeans on the market which can provide a certain degree of protection.
The importance of safety clothing for motorcyclists and their pillion
Here are some of the primary reasons why wearing appropriate motorcycle safety clothing is crucial:
It provides you with vital protection from the road if you are involved in an accident
Comfortable clothing which is suitable for different driving conditions will improve your concentration
Safety clothing will make you more visible to other drivers