Sports Tourer Bike Insurance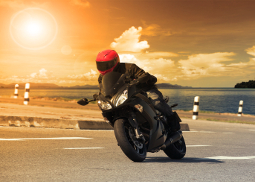 A blend of sports bike and tourer, sports tourer motorcycles combine certain traits of each category providing all the performance of a Sports Bike with all of the comfort of a tourer; and allowing for longer distance riding at higher speeds.
Sports tourers include a number of amenities, similar to those that can be found on a tourer. These allow the rider to travel greater distances with added comfort and safety, but without the sturdiness of a full tourer. Some of the main characteristics of a sports tourer, which set it aside from the Super Bike class:
Larger fairings than would normally be found on a sports bike, which help to reduce overall fuel consumption.
An adjustable windscreen provides better protection for the rider against the elements.
A specially designed frame encourages a more upright riding position and provides comfort that will last the whole day through.
A longer wheelbase and relaxed steering angle gives a more straight-line stability, but not as much as a full tourer. This provides a much slicker ride over rough surfaces.
A larger capacity fuel tank is incorporated to give long range distances between fuel stops.
One of the key differences between a sports bike and sports tourer is the addition of panniers. Whilst these are not as large as you would typically find on a full tourer, they provide storage space for any essential items the rider may need. With a middleweight classification, the sports tourer still remains much lighter and more agile than a full tourer.
MotorCycle Direct Sports Tourer Insurance
To get an online quote for your Sports Tourer, click on our Get A Quote button at the top of the page. If you would prefer to speak with us directly please contact us and a member of our bike team will be happy to discuss your options and see if we can find the right insurance for you. Some examples of Sports Tourers include:
Sports Tourer Models
Triumph Sprint and Sprint ST
Honda CBR1100XX Super Blackbird
Aprilla SL100 Falcon
BMW F800S
Suzuki GSX1300R
Ducati ST Series
Kawasaki Contours 14
Yamaha FJR1300
Kawasaki ZZ-R600